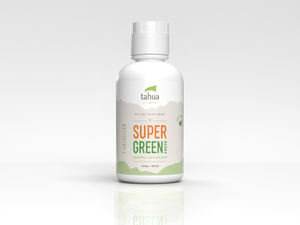 Tahua
SUPER GREEN FRESH
Regular price
$43.00
$0.00
Unit price
per
DESCRIPTION
500 ml. / 16.91 fl. Oz.
SUPERGREEN FRESH contains essential substances to alkalize, regenerate and revitalize.
SUPERGREEN's main ingredient is Chlorophyll, extracted from alfalfa leaves. Being a blood builder, chlorophyll is known to build your blood by improving the quality of red blood cells. Spearmint is also known to help with digestion, nausea and gas.
GREAT FOR
Support with: Herpes, blood cells, cleansing, iron supply, deodorize, teeth, gums, bad breath.
SUPERGREEN can be put in enema to help clean the bowels.
INGREDIENTS
Alfalfa Leaf Juice, peppermint, Purified Water
HOW TO USE
1 teaspoonful (5 ml) diluted in a glass of water twice a day (ideally three times a day) or as directed by a health practitioner.
WARNINGS
To be consumed within the first 4 weeks after opening. Shake well before using. Keep refrigerated after opening.
---